The Best Snorkeling While Visiting Key West
Key West offers some of the best snorkeling in the Florida Keys with a variety of shore entry snorkeling spots, reefs and shipwrecks accessible by boat. The area's clear, shallow waters and colorful marine life provide a great experience for snorkelers at all levels.
Key West is home to North America's only living coral barrier reef! The Florida Reef stretches over 350 miles and is home to more than 6,000 species of marine life. Discover a magical underwater world of coral reefs, tropical fish, and shipwrecks at the best snorkeling spots around and nearby the island of Key West!
Let our team at Rent Key West Vacations help you find the perfect snorkel excursions.
Call us at 305-294-0990 to start planning your Florida Keys retreat today!
Shore-Entry Snorkeling Spots
This beach is considered one of the best shoreline snorkeling places in Key West. It's located at the end of Southard Street in the Truman Annex. There are a variety of tropical fish species and living coral that will captivate your senses. Bring your own equipment or rent there. There is a per car, pedestrian/ bike entry fee. Parking is included and the park offers beach rentals, concessions, showers and restrooms. In addition to snorkeling, explore the nature trails and the historic civil war era fort.
The Key West Marine Park offers easily accessible snorkeling stretching from Higgs Beach to South Beach. Bring your snorkeling gear or rent on the spot. This beach is located along Atlantic Boulevard close to White Street Pier. It features the only shore-accessible underwater marine park in the United States. These reefs are brain coral, sea fingers, sea whips, sea fans and more. It's an excellent spot to see an abundance of butterflyfish, angelfish, and parrotfish around the pier. This is a great place for beginner snorkelers of all ages.
This large, family-friendly public beach with convenient vendors, water sports operators, umbrella/chair rental and restroom facilities also offers snorkeling from the shore. Although the marine life is not as lively as at the outer reefs, it is a good option for snorkel beginners. The shallow, current-free waters make it easy to get comfortable using your gear and you can encounter fish and some other sea creatures.
Off-Shore Snorkeling Excursions
This park is worth the extra trip just 70 miles west of Key West. It is accessible by ferry, seaplane or private charter. Here you will find the best snorkeling at the only living coral reef in the country! Over 100 unique corals make up the reef and more than 500 species of tropical fish call it their home. There are several snorkeling spots here, from the moat wall surrounding the fort to shipwreck sites.
The most cost-effective way to get there is by taking the Yankee Freedom III ferry. They include snorkel gear, beach picnic and tour of the historic fort. The seaplane excursion offers a faster and unique experience to get there and back more quickly and provides a bird's-eye-view of the beautiful turquoise waters and tiny islands along the way. There are a limited number of private charters available to the National Park and they customize day, overnight and longer trips.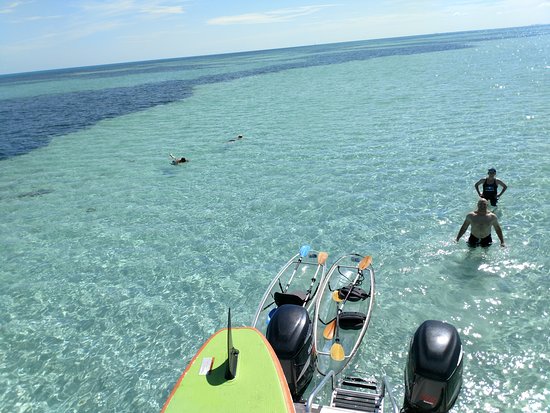 Cottrell Key
Cottrell Key is 9 miles northwest of Key West. It was named after a captain of a lightship that was anchored there in the early 19th century. It is known for a unique sponge garden and large coral reefs. It's also not unlikely to see dolphins, sharks, stingrays and Goliath groupers there. Cottrell Key is suitable for kids and families.
Little Africa Reef – Loggerhead Key
Loggerhead Key is the largest island in the Dry Tortugas and home to Loggerhead Lighthouse. Since this key is not reachable via public excursions and even private boats need a permit before entering the area, very few people come to this spot, so it remains a snorkeler's paradise!
Little Africa is the name of the untouched reef on the north side of the island where you can explore fantastic aquatic life in calm, shallow waters. This is a very beginner and kid-friendly snorkel spot with many soft corals such as sea rods and sea fans, hard corals like brain and fire corals as well as juveniles of various fish species.
Avanti Dutch Wreck
The Avanti (AKA Dutch Wreck or Windjammer) is also situated in Dry Tortugas, a mile southwest of Loggerhead Key and it rests shallow enough to offer excellent snorkeling. Actually, some parts of it are even exposed at low tide and the maximum depth is 22'/ 6.7m.
This wreck is in amazing condition. The ship split into two parts and those parts are scattered across the seafloor with healthy corals growing on and around them attracting huge schools of fish and many sea creatures.
Marquesas Keys
Marquesas Keys is a chain of 10 uninhabited islands west of Key West that were formed by a meteorite millions of years ago. In 1622, a Spanish Treasure Fleet sank in the area; the commander of the fleet was Marquis de Cadereita and this is why the island group was named Marquesas Keys.
Today Marquesas Keys is one of the most popular diving and snorkeling sites around Key West. Expect to find untouched reefs with large coral pinnacles and coral heads, interesting caves (Only Accessible by Scuba Diving) and crystal-clear waters. The strong currents attract larger pelagic species to the area so there is a high chance of spotting jackfish and sharks there.
The Sambo Reef system offers fantastic conditions for underwater adventurers at all levels. Situated near Boca Chica Key, it includes 3 large reef structures (Eastern, Middle, and Western). The Western Sambo Ecological Reserve contains the greatest diversity of habitat in the Lower Keys. It offers the best snorkeling because of its shallow waters (between 3-30'/0.9-9m).
While snorkeling Western Sambo you will see healthy hard and stony coral structures (branch, brain and one of the last remaining stands of living elkhorn corals in the FL Keys). Anemones, crabs, starfish, sea cucumbers, sand dollars and sea urchins live in nearshore waters. Huge gray angelfish, hogfish and a vast variety of fish live in the shallow waters of Western Sambo.
Just seven miles west of Key West, Sand Key Sanctuary Preservation Area (SPA) is marked by an old red iron lighthouse that was completed in 1853. This protected area is a favorite among snorkeling enthusiasts. Thanks to its remote location and the strict no-take policy (no fishing, spearfishing or lobstering), the Sand Key Lighthouse Reef is one of the healthiest coral gardens of Florida.
The seas are often flat and calm which creates an optimal snorkeling experience for the entire family. Sand Key provides varying depths of 1' to 15' surrounding the lighthouse. You will see a variety of tropical fish species, sea turtles, sharks and more!
A little east of Sand Key Reef, lies Rock Key, an under-the-radar spot to go snorkeling while visiting Key West. It is part of the Sanctuary Preservation Area and Key West National Wildlife Refuge so it is well-protected. A variety of reef fish and sea creatures can be seen around the shallow bank reefs (the depth range is 5-35ft/1.5-10.6m) while the deeper and larger crevices provide habitat for morays, groupers and octopus. You can also encounter turtles and sharks while snorkeling at Rock Key. In addition, the area has many shipwrecks to explore.
Snorkel Tours in Key West
Tours include all necessary equipment, knowledgeable guides, professional instruction, and complimentary beverages. Here are just a few offerings:
Fury Key West offers early trips to North America's only living coral reef on a 65-foot catamaran with a seated sundeck, stairway to the sea, shaded lounge area, and restrooms.
Danger Charters: This tour allows you to sail, snorkel, and kayak with morning and afternoon tours to Key West National Wildlife Refuge.
Sebago Watersports: Join a small group for an epic snorkeling tour at the Florida Keys Reef!
Our team at Rent Key West Vacations is here to help you find the best snorkeling in Key West with our concierge services. We are happy to help you personalize your stay with the best Key West activities, from dinner recommendations to water adventures. Discover our collection of over 60 Key West Vacation Rentals and find your perfect home away from home in Florida's southernmost city! Also, after you have booked your trip, you will have access to your Guest Portal with suggestions for private charters, water and land activities, restaurants, shopping and more!